Inside: Facing adversity offers you an opportunity for lessons, strength, and inspiration.
We are All Facing Adversity
Do you ever look around and compare your life to someone else's, thinking how easy he or she must have it? That is probably not the truth. Most of us are facing adversity. You are not alone in facing challenges.
I find myself comparing my life to what I think someone else's life is when I see someone else's Facebook life.
This post may contain affiliate links, if you buy a suggested product I will earn a small commission. We are a participant in the Amazon Services LLC Associates Program, an affiliate advertising program designed to provide a means for us to earn fees by linking to Amazon.com and affiliated sites." Read the full
disclosure policy here
.
When we compare what our life is on the inside to what someone else's life looks like on the outside, we come up short. We also come up short when we compare the beginning of our story to the middle of someone else's story.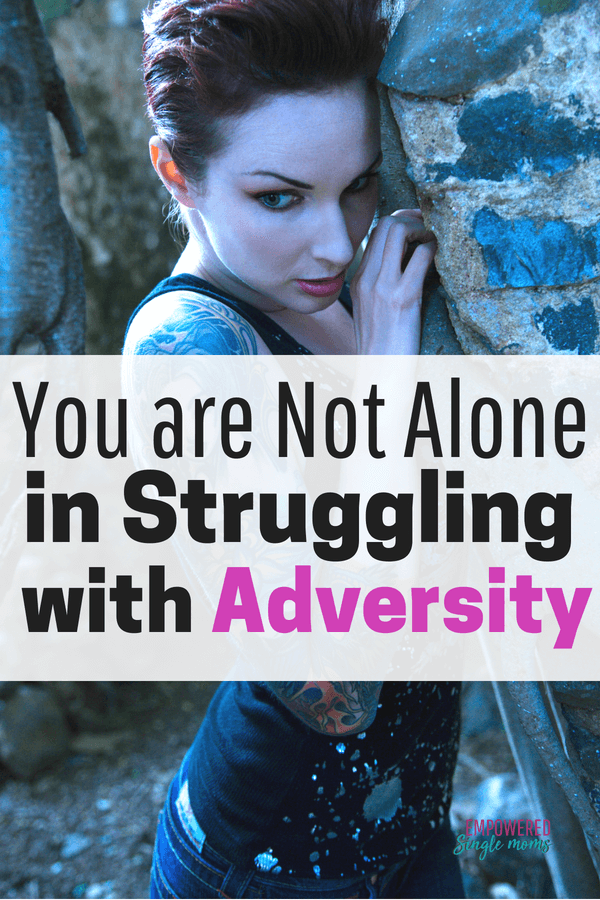 Is there a part of your life you wish you could delete? If there is it is it is probably the adversity you are facing that you want to delete from your life. Do you wish you could protect your children from facing adversity? I know I do.
But there is a different way to think about it: We all have problems, so we need to learn to deal with them as productively as possible.
First, it is important to acknowledge that facing adversity is a part of life and if you think someone has never had to face adversity, you simply do not know what is going on in their life. Most people's life looks easier from the outside looking in.
Yesterday when I was sitting in church, I was more aware of this than I usually am. I looked around and saw people I know. I realized many of them are facing adversity in unbelievably difficult ways.
This is what I saw:  a man whose wife died of cancer and left young children behind, a couple of people whose spouses had affairs, a woman whose husband chose alcohol over their marriage, a couple whose son is in prison, a couple of teenagers with debilitating diseases, a mother whose child is a few months past daily meth use, a couple who want children and are not able to conceive, and a woman who fears she will always be single.
The list goes on and on. I am sure you know these people in your life too. Most of these challenges are hidden. How would we treat others if we could see what was really going on in their lives?
Look for the Lesson in Facing Adversity
It is useful to look for the lessons hidden in the challenges of hardship. One of the lessons of facing adversity is compassion for others and compassion for ourselves. 
It is easiest to be compassionate to another person when we can touch that person's pain in ourselves. Too often we are judgmental. We think about the ways the person could have caused their own problems.
Though poor choices often lead to hardship, the other person probably did not intentionally bring this challenge into their life. Focus on kindness and compassion.
Related: 10 Best Self Help Books for Women
How Do We Face Adversity?
I have worked with women who have been physically abused by their partners and went back again and again.  This is hard to understand; however, I can remember dating a man when I was in college who did not physically abuse me but treated me in a less-than-stellar way.
I remember before the relationship ended how I put up with behavior that is hard for me to imagine tolerating now. When I think of myself in that relationship I am much more compassionate toward other people who tolerate unhealthy behavior in their partners.
It reminds me of the story of the frog in a pot of water. Had the frog been put into a pot of boiling water, he would have jumped out. But when the frog is put into a pot of cool water and the temperature is raised slowly, a deadly situation sneaks up on him.
Adversity During Illness
At times when we see someone with a progressive illness, our initial response is to move away and avoid the person because it is painful to face the situation. When we are healthy, we do not want to think about losing the abilities that we take for granted.
When my mother was dying I knew that if I were in her place I would not want to face that adversity alone. I would want my children to be near me. It gave me the compassion to connect with my mother's heart even when she could no longer use her voice.
Supporting Others in Adversity
We all want to be seen and acknowledged. When you see someone struggling let them know you are aware of their pain in a quiet private way. Maybe offer a hug or a prayer of support.
Be kind for everyone you meet is fighting a hard battle. -John Watson
We each have struggles and sometimes forget everyone else is fighting their own battle too. Remembering that everyone is in the midst of their own battle helps us to treat each other with compassion.
Sometimes there are things that even your close friends are not telling you about their struggles. Teach your children to be compassionate by modeling compassion.
When someone is struggling, try to ask yourself what would I appreciate in a similar situation?  If someone seems preoccupied or irritable, consider he or she may be fighting a battle you know nothing about. You can always choose kindness whether for someone else or yourself.
What You Can Do
In noticing the struggles other's are having and being compassionate to them, it helps them and you be less alone when facing adversity.
Related: How to Overcome Adversity After Divorce
How to Deal with Loneliness After Divorce
I made a private Facebook group just for you. Join us here in Empowered Single Mom Tribe. It is a place to connect with other single moms and share support and encouragement.