Are you looking for frugal Christmas family activities? Get this list of fun cheap family Christmas traditions to start.
If you are a single mom there are probably times when your budget is tight. In our private Facebook group, Empowered Single Mom Tribe we started sharing ideas on how to make Christmas special without spending a lot of money.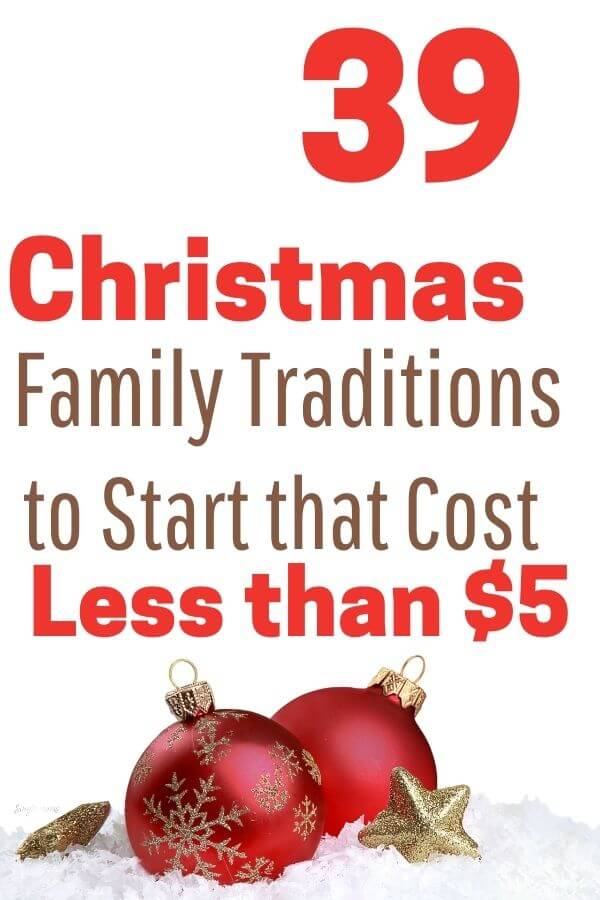 This post may contain affiliate links, if you buy a suggested product I will earn a small commission. We are a participant in the Amazon Services LLC Associates Program, an affiliate advertising program designed to provide a means for us to earn fees by linking to Amazon.com and affiliated sites." Read the full
disclosure policy here
.
That got me thinking about all the possibilities of how to make holidays special without spending money.
The key here is to focus on spending time together and making happy family memories.
Meaningful Cheap Family Christmas Traditions to Start
Watch a holiday parade (ours is the Friday after Thanksgiving)
Drive around and look at the holiday lights
Make looking at lights even more fun with a Christmas lights scavenger hunt free printable
Free holiday concerts malls, high schools, and colleges are all great places to attend free concerts. Tuba Christmas is one of my favorite Christmas concerts. I had never heard of it until one of my sons performed in it.
Baking cookies-watch for sales on flour, butter, and sugar for shortbread or snowballs.
Play family games. This is still my favorite family tradition.
Build a snow family, if you have snow
Make teddy bear bread
Make salt dough ornaments
Use Christmas coupons for gifts
Binge watch Christmas movies or watch 2 or 3 a week starting Thanksgiving weekend.
Christmas Eve candlelight service at church
Go Christmas caroling at a local nursing home
Sing Christmas carols at home
Make a Christmas playlist
Let the kids shop for gifts at a second-hand store or dollar store
Make ornaments with puzzle pieces. It seems like we always have puzzles missing pieces or you can buy used puzzles on the cheap at second-hand stores. Two of my most treasured ornaments are wreaths made of cast-off puzzle pieces, spray painted green with the boys' kindergarten pictures in them. I found more puzzle piece ornament inspiration here. I have also seen snowflake puzzle ornaments.
Decorate the tree. If you don't have money for ornament there are many options to make ornaments. Many of our ornaments have a story behind them. I have several homemade ornaments that were given to me as a gift and I tell the story of the person who gave it as I put the ornaments up.
Make your own ornaments with cookie cutters. Applesauce cinnamon ornaments make the house smell fantastic. You can decorate them or leave them plain as I do. They will usually last for 2-3 years.
String popcorn and cranberries for an old-fashioned Christmas feel.
Pizza shaped like a Christmas tree.
Christmas breakfast pancakes shaped like Rudolph or Santa. More Christmas breakfast inspiration here.
Make snow angels
Sledding
Walk around the neighborhood looking for signs of Christmas
Set up a scavenger hunt to find the gifts or at least one of them. Wrap the first clue and put it under the tree.
Do a family Christmas play useing the dress-up box for costumes
Christmas charades
Dinner by candlelight
Fancy hot chocolate with whipped cream and Christmas sprinkles
Christmas bond fire (if you have a fire pit)
Make homemade caramel corn
Make melted snowman bark
Create homemade Christmas cards
Use copies of pictures when the kids were younger for gift tags
Read Christmas books together get them from the library
Volunteer at a community Christmas meal
Christmas Pictionary
Assign each family member to research Christmas traditions from another country and share what you find out with each other.
Make some of your gifts under $5
Popcorn Bar for family movie or family game night
What are some of your cheap family Christmas traditions that cost less than $5?
Related: How to Have a Magical Christmas with a Tight Budget
Easy, Cheap DIY Christmas Decorations to Make at the Last Minute
Frugal Gifts People Actually Want to Receive
How to Make Ends Meet a Single Mom's Ultimate Guide
Family Christmas Eve Pajamas for Your Christmas Morning Photo Shoot