Being a single mom at Christmas can be one of the hardest things about a breakup. You are not alone you can get through this.
I was so sad my first Christmas as a single mom. Everyone else seems so happy and excited. If you are like I was the first year it took all of my energy to just marginally hold it togehter and put on a happy face when I was out in public. I just wanted to stay home in bed until January.
My friends didn't seem to have a clue about the pain I was going through the first few years as a single parent. No one understood. The first year after my separation Christmas was agonizing.
This post may contain affiliate links, if you buy a suggested product I will earn a small commission. We are a participant in the Amazon Services LLC Associates Program, an affiliate advertising program designed to provide a means for us to earn fees by linking to Amazon.com and affiliated sites." Read the full
disclosure policy here
.
My loneliness was so intense that first Christmas I felt like I had been physically wounded. I barely had enough money to pay the bills on time so I worried about being able to have gifts under the tree for the kids.
My apartment was small so there was no room for the full beautiful real Christmas tree, I was used to having. The idea of how to get that real tree to actually stay standing straight brought me to the edge of panic. That had always been his job to put the tree in the stand and keep it from tipping over.
I remember it took us twice as long to decorate the little artificial tree I brought home because I spent much of the time running to the bathroom to wash the tears away, plastering a smile on my face and going back to face the attack of one more memory triggered by an ornament one of the kids had unwrapped while I was in the bathroom.
Telling the kids the stories behind the ornaments and putting the ones from their dad's family into a box for him was a horrendous ordeal that year. Over the years this got easier and has even become joyful, but the first year was horrible.
I was so confused about how to make the celebration special with just the 3 of us. I didn't even know what to do for the food. and I tried different things to hit the balance of special food without being so much work that I would be utterly exhausted and not be able to enjoy anything.
On Christmas morning their dad came to pick them up and when they left I was so sad and exhausted I spent most of the day crying. I was a grown woman, a mother and I missed my kids. I was sad that there wasn't a gift under the tree from a special someone for me.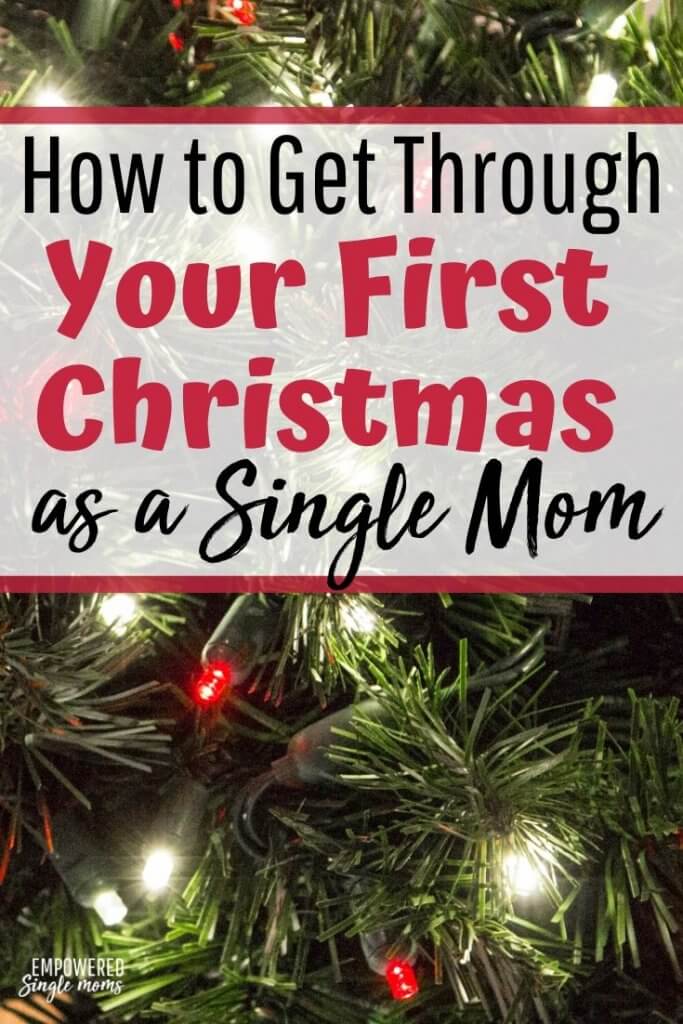 I did have a gift he had taken the kids to buy something for me which was thoughtful and I appreciated the thought, but somehow it made the situation almost sadder, that my family was shattered.
As I sat weeping alone listening to Christmas music I dreaded all the Christmases that lay before me. I knew I would always be sharing special days with their dad who lived in a different home an no longer loved me.
I wished my parents and siblings lived close enough that I could spend the day with them, but because we had moved across the country for his job my closest family was 9 hours away.
The first year was a painful blur, but I figured out how to have peace and joy at Christmas and so can you.
How I Made New Christmas Traditions
Over the years it got easier to make Christmas special as a single mom alone. We finally settled on easy finger food appetizers for Christmas Eve. Christmas morning we have Helter Skelter Carmel Rolls. Some years the kids would go to their dad's after breakfast and Christmas stockings other years he worked on Christmas Eve and Christmas morning and celebrated Christmas with them later in the week.
The kids and I do exchange gifts, but the real focus of our Christmas is spending time together and giving experience gifts. One of my favorite gifts is a workout playlist one of my sons put together for me one Christmas and I still use it years later.
I often give a gift of doing something together that we schedule later during Christmas break or even January. We've gone to plays, escape rooms and movies together. Another advantage of these experience gifts is that it extends the celebration and gives us another opportunity to make special memories together.
One of the ways that we keep the focus on being together is to spend time beforehand cooking or baking together and Christmas Eve playing board games. We often work on a puzzle together around the holidays, since it is often 30 below zero in Northern Minnesota we focus on inside activities.
The past couple of years my sons have brought women to our holiday celebration. We have added making a simple craft to our celebrating. This year we made Christmas ornaments for them to take back to their own homes.
Another thing that helped me make it through my new reality was to start a tradition of spending some time in reflection when the kids went to spend time with their dad. I journal about the year's highlights and spend time journaling about my priorities for the year ahead.
This time alone of journaling, reflection, and planning between Christmas and New Years Day has become a special part of the holidays for me. Doing it with candles and Christmas tree lights makes it feel more magical and special. I put together a guide to help you do your own reflection and planning check it out here.
How to Enjoy Christmas as a Single Parent
I have also found over the years that choosing my attitude makes a bigger difference than I could have imagined. When I focus on what I don't have and what is not working I feel sad, bitter and angry. When I focus on being grateful for what I do have I am happier and more peaceful.
I was so sad for a friend who moved after her divorce and her kids were always with their dad for Christmas Eve and Christmas Day due to the miles between her home and his. Instead of being sad and focusing on not having them she chose a different attitude that inspired me after my divorce.
She said she looked forward to the time alone since most of the time she was the only parent 24/7. She celebrated Christmas Eve and Christmas Day with her kids on New Years Eve and New Years Day.
Her attitude made the difference. You will have different options depending on your situation, but the key is to focus on what is possible in your situation and to accept what you have no control over. The time you have with your kids is too short to waste it wishing for something that is no longer possible.
You are not alone. Many families deal with sharing kids on the holidays. We all figure out a way to make it work in our own way. You can do this too.
It is also helpful to remember that some of those supposedly happy two-parent homes are not really all that happy behind closed doors. Making a fun happy Christmas when there is tension and fighting with the other adult in the home is much harder than making memories filled with peace and joy when you have control over setting the mood.
Your holidays now have a new rhythm time with the kids and time alone. You will enjoy the holidays much more if you figure out a way to embrace both parts of your new life as a single mom. Identify new family traditions to share with your kids that are easy and affordable.
Just as importantly figure out things to do when the kids are with their dad. This year I made an appointment for a massage after they leave.
Speaking of the massage gift certificate I got myself, long ago I started buying myself a Christmas present. I figured when I didn't have a boyfriend or husband to buy a gift for I could use that money to get myself a Christmas gift. The gift I get myself is always thoughtful and just what I hoped for.
If no one else is getting you something to open this Christmas get yourself something. If you need ideas checkout these ideas to make your life better and easier. Even if someone is getting you something to open it is okay to get yourself something new to enjoy when the kids go off with their dad.
Do you have another tip to share to make a single mom's Christmas easier? Share it in the comments below.